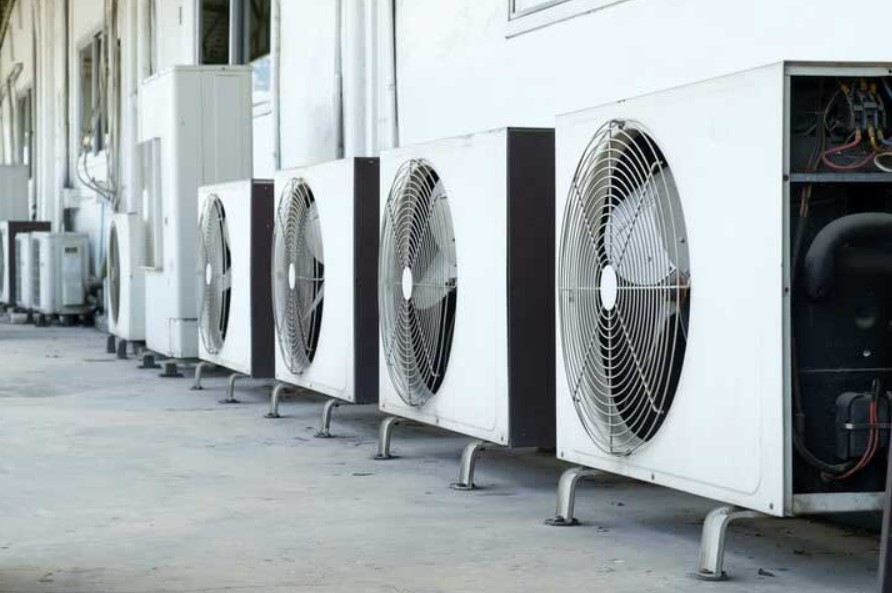 Cooling or heating a commercial space is a very different proposition to air conditioning a standard home.
There's size to consider, available air conditioning technology to factor in, and the cost of maintaining climate control within a commercial stetting.
Here's a rundown of the common options available when it comes to commercial air conditioning…
Chilled water systems
Suited to very large commercial spaces like factories, shopping centres, and airports, chilled water systems use water as a secondary refrigerant.
This water is cooled by refrigerant then piped through each room to lower the temperature. Known as versatile and efficient, chilled water systems are excellent at cooling large, open commercial spaces, but they do come at a cost in terms of installation.
Variable refrigerant flow (VRF) systems
Common in locations like hospitals, schools, office blocks and hotels, variable refrigerant flow systems allow individual areas to be heated and cooled separately.
The technology employs one outdoor unit to control multiple indoor units, and the term variant refrigerant flow refers to their ability to control the flow of refrigerant to each of these indoor units.
VRF is renowned for its excellent controllability and efficiency, and can boast significant energy (and cost) savings when compared to traditional units.
It also features superior dehumidification ability.
Large split ducted systems
Large split ducted systems work in much the same way as the ducted systems utilised in homes. They utilise one exterior unit to channel heat or cold through ducted piping to specific zones.
Ducted split systems allow users to control areas of an office or building, switching these zones off when not in use.
These systems are renowned as extremely quiet and also offer excellent air quality.
Split systems and multi-split systems
Split air conditioning systems are generally employed in commercial settings where one specific area or just a couple of areas need to be cooled.
They are generally more suited to small offices and restaurants rather than large commercial premises. Split systems and multi-split systems work in much the same way as standard home air-conditioning where individual units are installed to heat or cool individual areas.
This offers the ability to only use the air conditioner when required and to utilise each system to heat or cool to a different extent.
So, for example, in a small restaurant, one air conditioner might be used to cool the front of house, while a second air conditioner in the kitchen might be set to a lower temperature to keep kitchen staff cool.
Which system?
Each commercial space is different, and when it comes to deciding which system would best suit your needs, you should seek the advice of a reputable commercial air conditioning installer who can assess the building and devise a system that best suits your needs.
About Climacool
Servicing the greater Sydney region, Climacool Air Conditioning prides itself on superior service and quality workmanship.
We work with the leading brands in the field of heating and cooling, and have an enviable reputation for meeting the needs of our valued commercial clientele in air conditioning installation, service, and repairs.
You can learn more about our commercial services here, or contact us directly for assistance in selecting, installing and maintaining the right air conditioning system for your business.
Related Posts